Back to list
AG40: A Model Built for Alan Graham's Special 40th Anniversary
09/07/2019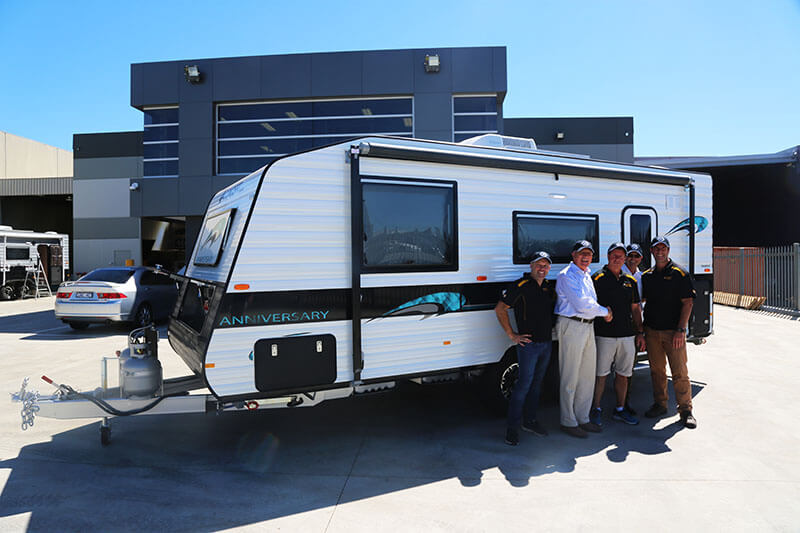 Since its business incorporation, Alan Graham's has garnered certain respect within the industry for offering top-of-the-range caravans to NSW customers. Overcoming hardship, from humble beginning selling cars, Alan Graham's now one of Australian's most successful caravan dealership. This year, the Australian dealership has written down in its business history 40th anniversary. For any business, it is a remarkable milestone. On that occasion, Concept Caravans built an exclusive model for Alan Graham's – the AG40. Let's find out what makes this caravan so special.
The AG40 weighs in with a Tare of 2159kg and an ATM of 2574kg. The AG40 is undoubtedly said to be a beautiful caravan. Luxury, comfort, style, and purpose all perfectly are found in this 6.4 Australian-made caravan.
Using black and white as main colour scheme both inside and out, AG40's features 'Pearl White' external aluminum cladding which contrasts harmoniously with the black composite panels. Also, chrome tail-lights, a solid access door with positive locks, and German made roof hatches are also found available in this attractive van. Its brilliant external storage makes sure that battery pack, battery charger, and roof-mounted solar panel are in their place and do not take up any space.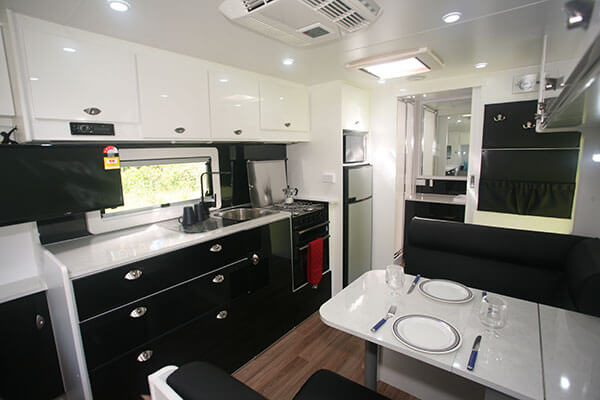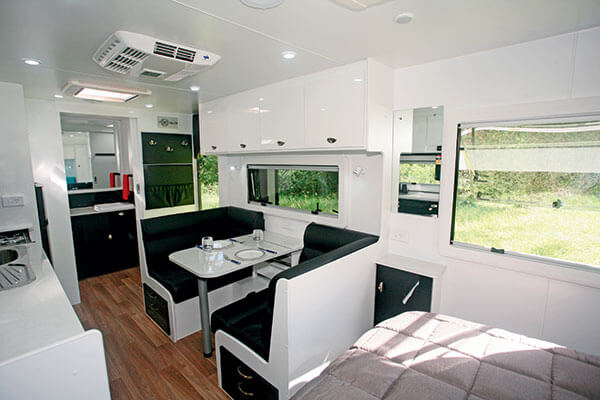 Concept caravans reputation is synonymous with luxury and comfort. Staying loyal to black-and-white concept AG40's interior really shines. Opening the entry door, the queen size bed takes most attention. The AG40's bed measures 1.85x1.52m (6ft 1in x 5ft) and has windows all around. The feature-packed kitchen definitely makes travelling chefs happy with swift gas oven with 3 gas burners, RMDX21 fridge, stainless steel sink with classy black tapware, a microwave, let alone all overhead lockers and general storage. One of the most noticeable features of this van's design is its decent-sized kitchen bench and that makes the flat TV screen between bedroom and kitchen easily accommodated, therefore, easily seen from either the dinette opposite or the bed up front. It does not stop there. The bathroom has all what you expect from a feel-like-home experience in the van. There, you can find all necessary items, such as: full-height shower, large mirror, vanity cabinet and so on.
Twelve-volt lighting is used throughout the AG40 but The white ceiling and walls certainly still give an even light distribution both by day and night. It does not stop there. This high tech caravan is equipped with the reverse-cycle air conditioner keeps you cool and warm accordingly with weather climate.
There are also various options that you can choose to personalise this caravan.
Find out full features of AG40 here.
Conclusion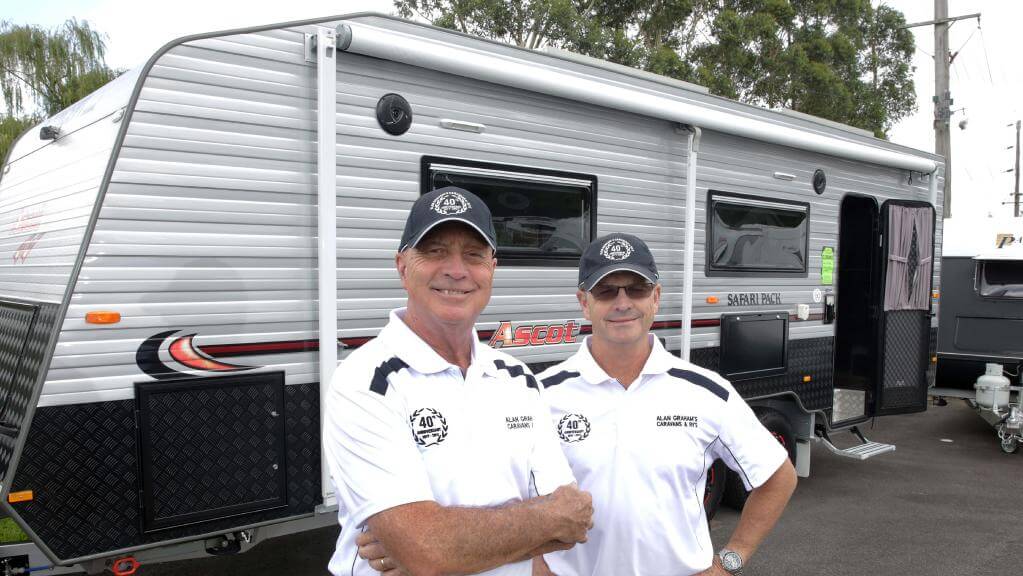 "Only 40 vans to be built", AG40's appeal is so apparent but what it offers to Aussie caravanners is more than that. Boasting functional and aesthetic design from exterior to interior, AG40 is a proud celebration of Alan Graham's remarkable business achievement. With the business motto "My Reputation is Your Protection", we can expect to see more high quality caravan from the Australia's well-loved caravan dealership.
If you are interested in our AG40, make an enquiry to Alan Graham's or visit us at our caravan dealership: 514 Pacific Highway, North Gosford.