CARAVAN & MOTORHOME SERVICING & REPAIRS
Alan Graham's is proud to have a licensed caravan workshop where we have a team of professionals on board and facilities to cater for caravan services and insurance repairs. We are dedicated to keeping your caravan, motorhome or trailer in tip-top condition, no matter what its age, size, make or model. With strong passion for caravans, we are willing to go the extra mile to ensure you have the highest quality repairs and advice. Now, from minor maintenance to replacement of interior features, we can confidently deliver exceptional services to your used caravans. With our fully qualified technicians and state-of-the-art diagnostic and servicing equipment, we're accredited to deliver fast turnaround times and quality workmanship. We have a full option from service and maintenance to repair and installation, you will have the peace of mind as our specialists will help you to get the job done right.
This service also checks the operation of all gas and electrical systems including appliances, water system operation. A visual inspection is carried out of the tyres and gas pipes for signs of deterioration and tyre pressures are checked. With a wealth of experience, we can restore your caravan to its former glory.
So let our friendly team be of service to you. Book an appointment at Alan Grahams now and we will soon be in touch with you to confirm your date.
CARAVAN INSPECTION SERVICE
Alan Graham's provides comprehensive pre-sale inspection service for caravans and motorhomes of all types. Our highly qualified inspectors have a broad knowledge of suspension, brakes, and steering to make sure to take an in-depth examination of your caravan, motorhome, campervans, pop tops and other RVs.
CARAVAN FRIDGE REPAIRS
We provide refrigeration services for your caravan or motorhome, including Swift motorhome. We also specialise in repairs to portable refrigeration units such as Engel, Dometic, ChesCold and many other branded systems. When it comes to Caravan fridge maintenance and repair services, Alan Graham's has many years of experience. Our workshop is equipped to take care of your caravans and RVs the right way, making sure to live up customers' expectation.
Contact us today for a free quote!
CARAVAN AIR CONDITIONER REPAIRS
As one of the most reputable caravan dealers in Central Coast, NSW, we assure to deal with all types of air conditioner problems, there isn't a job too big or too small. Our fully equipped service workshop can provide basic to advanced onsite caravan & servicing & repairs, diagnose and repair all brands of caravan and RV air conditioners as well as new installations.
CARAVAN BRAKE SERVICE
Performing regular caravan brake service ensures your family's comfort and safety. With our state-of-the-art caravan repair workshop, we are able to identify, repair and replace brakes for any vehicle. Our expert technicians will complete all jobs to the highest standards. Our service is to make sure that your caravan is fully functional and more importantly, safe to use, giving you comfort that your caravan or motorhome is ready to go whenever you are.
CARAVAN & MOTORHOME SOLAR PANEL FITTING SERVICE
At Alan Graham's, you'll find a thorough solution for your off-grid power needs, so you can have solar panels fitted with confidence and convenience. We offer solar panels for all types of motorhomes, campervan and caravan, with no-obligation custom quotes for installation, tailored to your make and model of vehicle. Depending on your vehicle, there are distinctive options to optimise the look and performance of the panel. But if you're still worried about what you really need, our team can help – Simply call us now on (02) 4328 4800.
CARAVAN GAS SERVICE
Regular gas servicing keeps your caravan in great condition and extends the life of your vehicle. It also ensures that the internal construction, gas, water and electrical components are running correctly without any issues that potentially happen.
All engineers at Alan Graham's Caravans & RVs are fully trained to carry out the work to the highest standards in line with the requirements of the manufacturers and insurance policies.
CARAVAN SERVICE COST
Before we offer a service quote, we will conduct some general inspection and diagnose, including a check of operation (lubrication if applicable), hitch and towing mechanism, brake linkages, corner steadies, and chassis condition.
The real charges will vary depending on service you choose. However, we endeavor to keep this cost to a minimum. Our caravan service offers fixed quotes with no hidden charges, complete set-up of your caravan including construction of awnings.
Please do not hesitate to give us a call today and we'll call back to you for a free estimate.
SERVICE YOUR CARAVAN NOW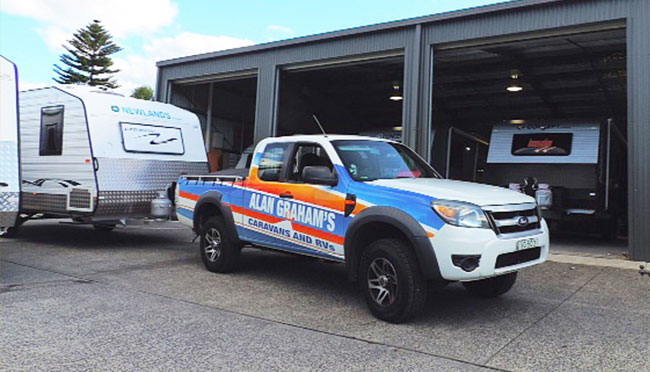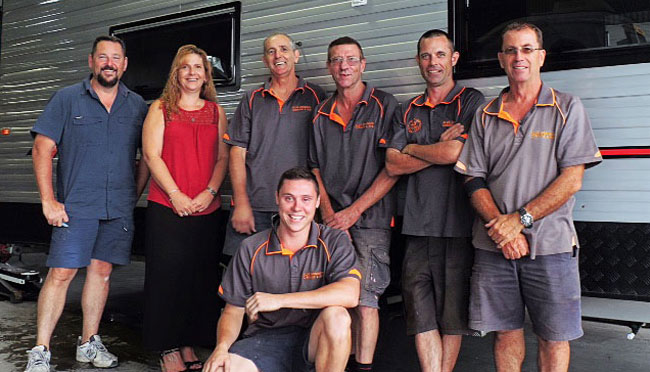 HANDY HINT
You should have professional caravan technicians check thoroughly your caravan's brake systems, bearing and tyres at least once a year.
PLANNING A TRIP?
For peace of mind, let Alan Graham's service team conduct a thorough inspection for your caravan before you start your trip.
Book a service